Day 3 After Hair Transplant Procedure
Today was a great day! I woke up after my first full night of sleep and there was minimal pain. As a result, I didn't need to take any Vicodin today. I did take the Methylprednisolone before breakfast and after lunch as directed. I have two more days and then it will be gone.

I am experiencing a little more itching as things heal up. I can't scratch but I was told that I could gently touch the area but don't rub it. It seems to work pretty well. When I touch the transplanted area, I feel all of the little stubble from each hair. It feels pretty neat.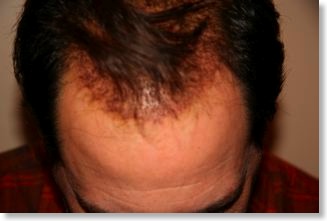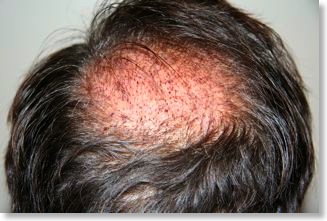 Today, my scalp doesn't look any worse than a bad sunburn. It does, however, feel tight since the skin was stretched slightly to close up the donor area. For the last two days, my scalp has been getting very oily. It's probably just a by-product of the healing process. I definitely need to wash my hair every night. It's a delicate process where I mix the shampoo with water in a cup and then gently pour it over my head. I then pour clean water to rinse it. It doesn't seem like much but it actually removes that oil. The problem is, I can't really comb it too well for another 10 days. That will be a great day!

Time to take my last Methylprednisolone for today. I'm going to try the bed tonight so I need to take the Vicodin. I want to at least lay my head down without any pain.